Watch Video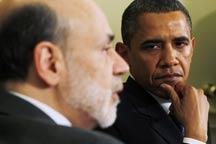 Play Video
The U.S. economy is strengthening, but much remains to be done to get Americans back to work. U.S. president Barack Obama made the remarks on Tuesday, wrapping up a White House meeting with Federal Reserve Chairman Ben Bernanke.
After an Oval Office meeting -- U.S. President Barack Obama said that he and Federal Reserve Chairman Ben Bernanke agree that the U.S. economy is strengthening and that growth must be increased to boost jobs.
Barack Obama, US President said "I think in our discussions we share the view that the economy is strengthening, that we are into recovery, that it is actually led by some interesting segments like manufacturing, that we haven't seen in quite some time. The tech sectors are strong."
But with the nation's unemployment rate at 9.7 percent, Obama said more work needs to be done.
Barack Obama said "We still have got a lot of work to do there is a great concern about the 8 million jobs that were lost over the course of these last two years,. and we have got to continually push the pace of economic growth in order to put people back to work. That ultimately that measure for most Americans on how the economy is doing."
Obama told reporters that financial regulation legislation awaiting final congressional approval will provide certainty to financial markets and help consumers.
Barack Obama said "Not only will completion of the financial regulatory reform bill provide some certainty to the markets about how we are going to prevent a crisis like this from ever happening again, but it also ensures that consumers are going to be protected by never before on all the things, day to day, that involve interactions with the financial system."
On Friday the Labor department is expected to report June employment figures, which economists polled by reuters expect to show a decline in new jobs with the unemployment rate rising to 9.8 percent.
Editor:Xiong Qu |Source: CCTV.com