Watch Video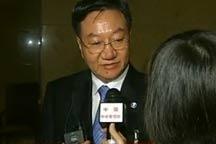 Play Video
The Chinese mainland and Taiwan have signed the long-awaited Economic Cooperation Framework Agreement, or ECFA. It's a move hailed by many as a milestone in cross-Strait relations. But the Ministry of Commerce says there's still a lot of follow-up work to do.
Vice commerce minister Jiang Zengwei says relevant departments on both sides will implement the pact as soon as possible.
Jiang Zengwei, Vice Commerce Ministry said "The framework agreement requires negotiations for each single pact to be carried out within six months. I think both the mainland and Taiwan still have some approval work to do."
Jiang Zengwei says the Chinese mainland framed the work schedule using World Trade Organization principles, while considering the Taiwan economy. Both sides have made concessions. The ECFA will end investment and trade barriers between the two sides, and build an economic communication system. Analysts say the opening of the service trade, especially the banking sector, will improve the overall investment environment.
Liu Xueqin, Researcher of Chinese Academy of Int'l Trade & Economic Cooperation said "Many Taiwan manufacturers are investing in the mainland. But one of the biggest obstacles for them is financing, because lenders on the mainland know little about the credit and profit situation of Taiwan companies. It's not easy for these investors to get loans. The ECFA allows Taiwan banks do business on the mainland, so these banks can provide capital for Taiwan firms."
Under the agreement, the two sides will continue negotiations for commodity trade, service trade and investment.
Editor:Xiong Qu |Source: CCTV.com