Watch Video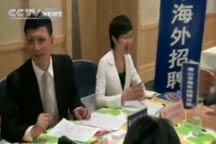 Play Video
Chinese companies looking for foreign experts, have turned their attention to overseas retirees. In Foshan city in Guangdong province, they're recruiting foreign retirees with special talent, that care more about the eastern experience than remuneration.
Foreign retirees with greater experience, have more to offer Chinese companies wanting foreign experts.
Foshan city has found them in Germany.
Lin Zheng, Director of Foshan HR & Social Security Bureau said "Both men and women retire at the age of 65 in Germany. But they are still very healthy. They hope to use their talents in other countries, while travelling to broaden their experience."
Retirees also care less about the cash, and more about the experience.
Companies in Foshan provide transport, catering and accommodation, plus 4500 yuan per month.
They ask a lot less than ambitious young foreign experts.
Yu Xiaoyu, Board Secretary of GRCI, Foshan said "Overseas experts come for three or six months. They leave after they finish their jobs here so they don't take long term positions."
Germany's organization for retired experts offers talent in various fields.
Chinese firms that have interest in them, can submit an application.
Editor:Xiong Qu |Source: CCTV.com