Watch Video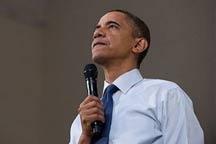 Play Video
U.S. President Barack Obama has launched a broad attack against Republican lawmakers. He says they're out of touch with ordinary Americans, for opposing Wall Street reform and siding with big oil.
The criticism comes as Democrats are battling to send a landmark overhaul of U.S. financial regulations to Obama's desk, to be signed into law. Efforts to reach agreement on the bill have been complicated by the death of Democratic Senator Robert Byrd, and cold feet among Republican allies.
Barack Obama, US President said "Most of our friends in the other party are planning on voting against this reform. In fact, just yesterday, I was stunned to hear the leader of the Republicans in the House say that financial reform was like using a nuclear weapon to target an ant. That's right. He compared the financial crisis to an ant."
Editor:Xiong Qu |Source: CCTV.com