Watch Video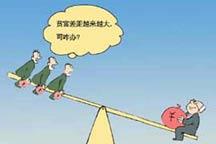 Play Video
China's rapid economic development has seen a growing class of wealthy elite. But behind the facade of luxury apartments and excessive consumption, there's a striking disparity between rich and poor. The country's leap to prosperity is leaving millions of ordinary Chinese behind.
Learning how to give a speech, discussing the latest high-tech gadgets. The course, introduced from the U.S., aims to teach business and management skills to children aged between 3 and 6.
This homework is from the economic class, showing the early development of commodity trading. Through the program, children are also building up their business skills and knowledge. The program cost 20 thousand yuan. It's hard to say how many Chinese have the money to lavish their attention on their children, but the number is exploding.
On average, the cost of putting your mini-mogul through early MBA is 200 yuan per hour. The program is targeted at the country's growing number of well-off parents, who can afford to make such an extravagant investment in their child.
Li Jing, one parent said "I want to know if my son has business talent. So I choose this program for him. I hope he can develop the ability for his future."
But for most Chinese, such lavish education is well beyond their means.
Forget about specialized courses for pre-schoolers, even basic college education can be a financial struggle. 15 percent of students in China apply for loans to afford their four-year 20 thousand yuan tuition.
Gallup Consulting specializes in conducting research on people's wellbeing. They say the growing income disparity in China is a pressing issue, and one that the government needs to address.
Wu Tao, Senior Research Director of Gallup China said "Definitely I think any government in the world has to be aware of and to close the gap between the rich and poor. Because China is growing very fast, it's natural that some people are becoming rich faster than people in other parts of the country. But any government has to make effort to redistribute wealth and make sure the gap don't get too big, which could become an issue for the society."
China's economic transformation has brought enormous prosperity to a fortunate few. But the next step will be much harder - further raising living standards and creating equal opportunities for the rest of the country.
Related stories
Editor:Xiong Qu |Source: CCTV.com