Watch Video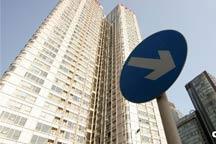 Play Video
It's been two months since the State Council issued new housing curbing policies. Media reports suggest recent property transaction volumes in many big cities have dropped drastically. But are reports of falling sales exaggerated? We get an insight from the banking sector.
The Beijing banking regulator says local commercial banks are strictly implementing the tightened loan policies issued by the State Council in April. Transaction volumes have dropped significantly over the past two months, resulting in a downward trend for housing prices.
Lu Jian, Deputy Director of China Banking Regulatory Commission, Beijing Division said "The transaction volume of newly built houses dropped 59 percent in May, while purchases off the plan were down 58 percent. Loans issued for housing purchases have also dropped over 50 percent. I think these figures reflect the current state of the housing market."
To shield against possible risks in the housing market, commercial banks have carried out stress tests. The results suggests the ratio of non-performing housing loans is within control.
Lu Jian said "There is a general consensus that the new loan policy will be in place for a long while. The housing market will undergo sound development, in the way the policies had planned."
New policies by the central government, along with local measures, have been effective in curbing unreasonable housing demand. Housing prices have cooled since their implementation, and the trend looks set to continue.
Editor:Xiong Qu |Source: CCTV.com