Watch Video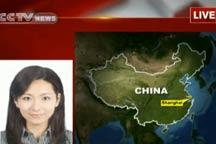 Play Video
For more on the integration of the three networks, joining us on the line is our correspondent Li Zhen in Shanghai.
Q1. Shanghai is included in the 3 network trial program. How has the local media responded to the news?
Q2. From your observations, what are some of the industries in Shanghai set to benefit from the program?
Q3. What do experts say are the advantages of Shanghai getting involved with the program?
Editor:Xiong Qu |Source: CCTV.com