Watch Video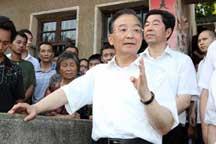 Play Video
Premier Wen Jiabao says the government will keep China's macro-economic policy stable, but warns of difficulties in controlling the economy. He says the government will balance efforts on solving long-running structural problems as well as addressing urgent issues at hand.
At a symposium in Changsha in Hunan Province on Saturday, the Premier said that the country's current economy remains good. But he warned that domestic and international environments are extremely complicated.
He said that China's macro-economic control policy is facing mounting difficulties. The severity of the international financial crisis, and the unpredictable nature of recovery are two major challenges.
The Premier also said the government will maintain macro economic policies, but will focus on making them more flexible and targeted.
He said the government will work towards three main goals - stable and relatively fast domestic economic growth, restructuring of the economy, and management of inflation expectations.
The Premier said the government would balance resolving long-term structural problems while targeting urgent issues.
Related stories
Editor:Zhang Jingya |Source: CCTV.com