Watch Video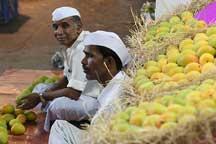 Play Video
In the meantime, a rise in the prices of vegetables, fruits and grains have added to Indian consumers' woes after the fuel price hike.
The rise in fuel prices has caused a price hike for fruit and vegetables, as transport costs for produce have increased.
Consumers say the fuel hike was bad enough, but now the rising cost of produce has made it very difficult to manage household needs. They also say that delayed rains have added to their worries, but they have no choice but to put up with the price increase.
Gauri, homemaker, said, "Inflation has increased a lot. Also, there is no rain. What will the poor eat? Fuel prices and gas prices have also increased. What will people buy and eat?
Vegetable sellers say prices will drop once the rain hits, and the farmers will be able to sow their crops. But until then, the fuel hike is driving up the cost of transportation by 25 percent.
Jasvantkumar Ramaji, vegetable merchant, said, "The petrol price hike has led to a price rise in vegetables. There have been no rains as well, and that's why there is no produce in the market. This has led to an increase in vegetable prices. When it rains, new crops will be sowed. Then prices will decrease."
The state market committee says there has been a 10 percent drop in the volume of vegetables coming in the market.
Narendrasingh Chhasatia, Secretary, Agri. Produce Market Commit. Ahmedabad, said, "If we look at this month, we used to get about 20,000 quintals per day but now we get only 18,000 quintals. So that's 2,000 quintals less this month. There has been 10% decrease in the produce that come into the market."
A number of factors have led to the increase in prices, including inadequate and delayed rains. Consumers are getting desperate, and are turning to the Indian government for answers.
Editor:Zhang Jingya |Source: CCTV.com