Watch Video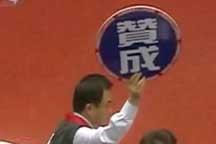 Play Video
Taiwan's Pan Blue Coalition favors greater economic cooperation with the Chinese mainland. The coalition is urging its legislative authority to promptly pass the Economic Cooperation Framework Agreement, or ECFA.
The Taiwan legislative authority is set to review the ECFA this Wednesday. In a meeting held by the authority to discuss the review, disputes have arisen between the Pan Blue Coalition and its opposition group, the Pan Green Coalition.
The Green coalition called for a detailed, line-by-line review of the framework. But the Blue coalition says it should be assessed as a package. The Pan Blue Coalition will hold press conferences to clarify the benefits of the ECFA and put their case to the authority. Representatives of the Pan Blue Coalition say Taiwan grass roots traders and businessmen are calling for the review of the ECFA to be sped up.
Editor:Zhang Jingya |Source: CCTV.com