Watch Video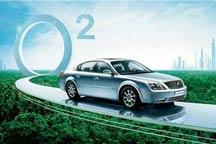 Play Video
The Chinese government has unveiled a 3,000 yuan subsidy, in a bid to rev up the green car industry. The bonus will be offered to customers who purchase one of 71 energy-saving models from June 30th. As FENG LING discovers, the popularity of green cars is set to surge.
Mr. Hu says he's been waiting a month for detailed information about which car model can enjoy the purchase subsidies. He's happy to hear now that he has the choice between 71 energy-saving models.
Mr. Hu, Consumer in Beijing said "The policy is a big temptation for consumers. 3 thousand yuan is not a small amount."
Many consumers share the same attitude. They agree that the subsidies, which is the equivalent of six months worth of gas, is attractive for ordinary salary earners.
Ms. Bei, consumer said "We've come to see the energy saving models after we heard about the new policy. It's made us more interested in this kind of car."
Car dealers say they've had a surge in customers interested in green cars over the past few days.
In Shanghai, many car dealers have pre-empted the government subsidy. They've already reduced the price of energy-saving cars by 3 thousand yuan. They expect to receive the discount back from government.
Industry insiders say sales of green cars have soared since tax cuts on low emission cars were implemented last year. Now, the new subsidy is expected to attract even more environmentally-conscious customers in search of a bargain.
Editor:Xiong Qu |Source: CCTV.com