Watch Video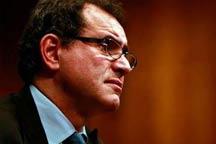 Play Video
U.S. economist Nouriel Roubini is credited for predicting the financial crisis. He said recently that the euro zone growth in 2010 could be "closer to zero", after a volatile second quarter threatens to dash previous estimates of one percent.
Roubini says the currency bloc doesn't face a double-dip recession. That's despite deteriorating market confidence over economic growth, in an age of fiscal austerity. But he does expect the global economy to slow in coming months, as governments slash budget deficits.
He also predicts U.S. growth could slow in the second half of this year, to 1.5 percent from 3 percent in the first. Roubini's forecasts are based on the following: the stock market correction in the past three months, rising credit spreads and a jittery inter-bank lending market. All of these factors suggest there are serious concerns over economic growth at a global level.
Editor:Xiong Qu |Source: CCTV.com