Watch Video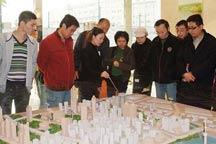 Play Video
The housing market seems to be losing momentum, to the dismay of many property speculators. As the driving force behind China's property boom, how are speculators from Wenzhou reacting to this new, more subdued climate? Are they quitting the housing game for other investments, or simply biding their time?
The temperature in Shanghai is soaring, but that hasn't dampened the enthusiasm of these property speculators from Wenzhou. They're here to inspect luxury villas in a new housing development, and aren't fazed by the 20 million yuan price tag.
Zhang Qian, organiser said "All 38 of the group are VIP members of China Construction Bank, and they have come to take a look at the luxury residences. No deals have been done yet, but 6 of them want to buy. Now they're negotiating over the price."
Property developers have been trying to keep momentum, by bombing Wenzhou with advertisements for new housing projects and promotional campaigns. But despite their efforts, the number of visiting customers has been decreasing since the government issued a raft of market-curbing measures in April.
Zhang Hui, Speculator from Wenzhou said "I have to invest at least 5 million yuan to purchase a 10 million house. The loan requirements have been tightened."
Discouraged by the government's control measures, most speculators from Wenzhou have quit the property market. But a small number are still trying their luck. Developers are doing what they can to help investors out. Some are letting buyers put down a 50 percent deposit, and allowing a year and half to raise the balance. Others are requiring a 40 percent down payment, and when the property ownership certificate is issued, the rest can be obtained from loans issued against the collateralized property.
Speculators from Wenzhou invested around 100 billion yuan in the housing market after the Beijing Olympic Games. After the government's tough new measures, only 10 percent of that has been sold.
Zhou Dewen, Director of Wenzhou SME Business Development & Promotion Asso. said "Only a small number of speculators are beginning to sell properties. Others are waiting to see because they have enough capital to back them up."
Although housing prices have lost momentum for now, property speculators are finding it difficult to settle on alternative areas of investment, after quitting the housing market.
Editor:Xiong Qu |Source: CCTV.com