Watch Video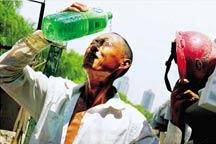 Play Video
As the searing heat wave continues to scorch many parts of China, people are doing just about anything to keep cool. The extreme weather is proving to be good for business, especially for those who can offer respite from the heat.
In Guangdong province, refreshing beverages and herbal tea have become the latest best sellers. A herbal tea vendor says her sales volume has doubled since last week.
Herbal Tea Vendor in Guangdong province said "Between 7 and 8 in the evening, residents go for a stroll after dinner. Many prefer to drink a cup of herbal tea, even if they have to queue for a long time. Business is pretty good."
Products that offer sun protection, like sunglasses and sunscreen, are also in hot demand.
One salesperson said "Sales of hats have doubled that of the previous period. Sunglasses are also selling better than before."
Shopping centers are welcoming their peak season for sales of air conditioners and electric fans. Many products are now out of stock.
One salesperson said "It's so hot these days, many models are sold out."
Three thousand kilometers to the north, residents of Shenyang are also suffering from the soaring temperatures. Many are braving the heat to visit shopping centers, in the hope of keeping cool.
Zhang Yingjun, salesperson said "Everyday we need to restock nearly 200 bamboo mats, as well as around 400 pillow mats."
Keeping hydrated is a top priority in the summer, so it's no surprise that the humble watermelon is the best selling fruit of the season.
Wang Bao, fruit vendor said "Watermelon sells pretty well, thanks to the hot weather and World Cup. I sold all of my watermelon yesterday, the whole cart."
Restaurants are also taking advantage of customers' desperation for keeping cool, and
many are promising air-conditioned comfort to attract more business.
Editor:Xiong Qu |Source: CCTV.com