Watch Video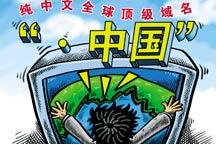 Play Video
Chinese websites are about to take on a whole new character. From August, the country code domain ".中国" will be accessible in Chinese characters, marking a cultural milestone in the online era.
Currently, Chinese websites are identified with the domain ".中国". The addition of the ".中国" domain means Internet users can now use Chinese characters to reach a website, as well as English letters. Chinese Internet users from around the world will be able to visit websites in China, regardless of their proficiency in English. Both complex form and simplified Chinese will be available.
Previously, the top-level country domain name system was limited to 37 characters: 26 English letters, hyphens, and ten Arabic numerals. For the first time since the system was devised in 1983, domain names have entered a multi-lingual, and multi-cultural era.
Li Xiaodong, Deputy Director of China Internet Network Information Center said "One quarter of the world's Internet users are in China, so it's a milestone to accept their culture on Internet. The '.中国' in Chinese character means Chinese culture is accepted on Internet, and China's important role on Internet is recognized."
To date, more than 90 percent of government departments, 95 percent of domestic media, and over 40 percent of the top 500 Chinese enterprises have registered their ".中国" domain.
Related stories
Editor:Xiong Qu |Source: CCTV.com