Watch Video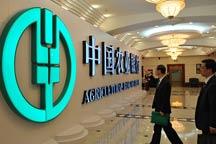 Play Video
The Agricultural Bank of China has priced its Hong Kong and Shanghai dual listing. The deal is set to break all IPO records by raising more than 22 billion U.S. dollars, when adding in over-allotment shares.
Agbank confirmed late Wednesday that it's priced the Shanghai IPO at 2.68 yuan per share. It will exercise a greenshoe option to expand its offering by 15 percent. The lender also said its Shanghai portion of IPO was more than 10 times oversubscribed. It will sell 40 percent of the Shanghai offering to 27 strategic investors, including China Life Insurance and Anshan Iron and Steel Group.
According to sources involved in the deal, Agricultural Bank of China has priced the Hong Kong portion of its IPO at 3.2 Hong Kong dollars each. The Shanghai offering was priced at 2.68 yuan, at the top of the indicated range.
Given the strong institutional demand backing the deal so far, it's highly likely the greenshoe option will be exercised, adding 15 percent more in over-allotment shares. That means the bank will break all IPO records world-wide.
But given the recent market downturn, together with a worsening performance of the banking sector in general, investors are cautious.
Mr. Shen, Stock investor said "Overall, banks aren't doing well. The banking stocks I bought aren't rising in value, and now I'm stuck with them. So why should I be buying into Agbank's IPO?"
Agbank still faces a tough situation, with the plunging domestic market and euro zone debt crisis shaking up global markets. But analysts are cautiously optimistic about the bank's performance after listing.
Todd Martin, Equity Strateggist of Society Generale said "Its actually going to perform relatively OK. I see anywhere from five percent upside in the next, up to a month and I think where it was priced was in the top one-third of its range. It is at a 20 to 30 percent discount to larger banks, which I think gives it a comfortable cushion for a little bit of upside in the aftermarket."
Agbank plans to debut on the Shanghai Stock Exchange on July 15th, and a day later in Hong Kong.
Editor:Xiong Qu |Source: CCTV.com