Watch Video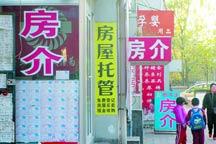 Play Video
A survey by a real estate agency has found that rents are on the rise in four of China's big cities.
According to the survey, the rental price in Beijing increased more than 18 percent between March and June this year. It represents a 2 percent surge every month, on a year-on-year basis. The survey also found that in addition to seasonal factors, tenants who sub-let the properties are pushing up rent costs.
Experts warn the industry and consumers to be cautious about the phenomenon, that's arisen from legislative loopholes.
Ma Guangyuan, economist said "A possible result is that you can't rent a house at a fair price anymore. We blame the brokerage company because they are in a unregulated market, including its information, its resources, supervisions and the prices itself. All of these provide a good chance for the agent company to hold a monopoly. It's easy for a real estate agency to control houses in a typical area."
Editor:Xiong Qu |Source: CCTV.com