Watch Video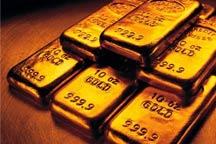 Play Video
The international gold price has dropped from record highs in recent weeks. China's retail gold price hasn't changed yet, but it could in the near term.
Hot money in the international market quickly affected the gold price.
But even though the international gold price is on a downward trend, China's retail price of spot gold remains unchanged.
Chinese investors are still buying in gold bullion.
One investor said "I think the gold price is stable. It won't be as high you can't expect it to be. Many years ago, it was about 80 yuan per gram. And now it is more than 200 yuan, getting closer to 300 yuan. So it is quite stable."
Experts say the recent drop in international gold prices is very normal. Many factors have caused the price decrease.
Zhang Yingying, Analyst of Galaxy Futures said "Technical reason partly results in the price fall. We have seen gold price rise for several consecutive weeks, so it is reasonable to lower it. Besides, we talk less about the impact of Eurozone debt crisis and the US economic data is not so good, for example, the real estate data and employment data. There also are worries in the market that the US economy might have a second dip. "
Gold is a safe-haven commodity, that's what led to recent record highs.
China's gold price generally keeps pace with the international gold price. So a change in the value could still occur.
Editor:Xiong Qu |Source: CCTV.com