Watch Video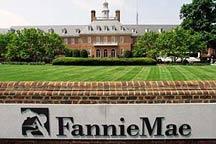 Play Video
Fannie Mae and Freddie Mac, two of the largest U.S. home funding companies, were taken under government control in September 2008.
The mortgage giants have tapped more than 145 billion U.S. dollars combined in federal aid, and have an open credit line with the Treasury Department through 2012. On March 18th 2009, the Federal Reserve announced plans to purchase bonds of as much as 100 billion U.S. dollars.
And on May 5th this year, Freddie Mac applied for another 10.6 billion dollars of federal aid, because of an 8 billion dollar deficit in the first quarter. This took the total amount of financial aid received by the company to 61.3 billion dollars.
Five days later, Fannie Mae also required 8.4 billion dollars in aid for its 13 billion dollar deficit, taking its aid total to 83.6 billion dollars.
Editor:Xiong Qu |Source: CCTV.com