Watch Video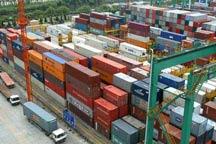 Play Video
China's foreign trade in the first half of the year totaled 1.35 trillion U.S. dollars, a year-on-year increase of around 43 percent. The country saw both its June exports and total trade reach record highs.
According to the General Administration of Customs, the first half of 2010 saw exports rise 35.2 percent to around 705 billion dollars. Imports from the same period were up 52.7 percent to almost 650 billion dollars.
China's trade surplus fell by 42.5 percent in the first six months this year from a year earlier, to around 55 billion dollars.
Zheng Yuesheng, Director of Statistics Department, GAC said "It's a sign that our foreign trade has recovered to the level maintained before the financial crisis occurred. In particular, the monthly export and total trade surpassed 760 million and 6.7 billion respectively compared with the maximum maintained at July 2008."
High-tech products led the way for China's export boom, accounting for over 30 percent. China is also boosting the world economy, by recording a 35 percent surge of imports from the EU, U.S. and Japan.
But experts point out that as the sweeping European financial crisis has a ripple effect, China's foreign trade will drop in the second half of the year. They warn Chinese businesses to stave off economic risks.
Huang Guohua, Department of Statistical Analysis, GAC said "China's export increase rate to the EU stood at 43.2 percent in June, which is 0.7 percentage lower than the total export increase rate. And the export increase rate in the first five months is 1.2 percent higher. It shows that the European financial crisis and depreciation of the euro to our exports are having an effect."
Because the outcome of the European financial crisis remains uncertain, Chinese export companies should be on high alert to minimize risks, while bolstering pricing capabilities. They should also maintain a certain level of U.S. dollars or Renminbin as their settlement currency, in order to shrug off exchange rate expenses.
Related stories
Editor:Xiong Qu |Source: CCTV.com