Watch Video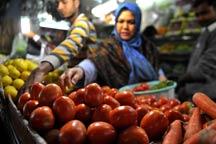 Play Video
The after-effects of heavy rain and floods in northern India are being felt across the country. Vegetable prices have increased by 25 to 30 per cent all over India, with green vegetables and tomato prices burning holes in the pockets of consumers.
Vegetable prices are soaring across India, with the cost of tomatoes reaching an all-time high. Supply has been reduced due to heavy rainfall and floods in the northern part of the country.
Incessant rains over the past few days have affected crops in several northern states. Wholesale prices of these basic commodities have gone through the roof. The region is responsible for producing tomatoes and green vegetables including cucumber.
Pintu Kumar, Vegetable Supplier said "The floods have caused problems in transportation, and the price of crude oil has also has increased, so the transporters raised their fares. That is why the vegetables prices have soared."
The petroleum price hike has only added to the consumers' and distributors' woes. Transporters bringing in produce from other states have increased their costs, affecting the price of the vegetables in turn.
The wholesale rate for tomatoes has gone as high as 40 Rupees a kilogram, while the retail price in some city markets has reached 60 Rupees a kg.
Omna, one consumer said "The inflation is so high that we have to think twice before purchasing vegetables. The prices of all essential commodities have increased, from auto rickshaw fares to gas prices."
Consumers are now urging India's federal government to address the issue as soon as possible.
Vegetable vendors are also unhappy. Their business has been greatly reduced, as demand for vegetables falls.
The government is pinning its hopes for cooling food prices on the progress of the summer monsoons, which irrigate the bulk of India's farms.
Editor:Xiong Qu |Source: CCTV.com