Watch Video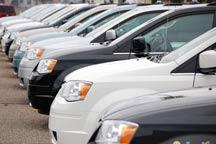 Play Video
China's auto market has been riding high on soaring growth last year. But from June this year, there are signs that the boom is cooling down. Car manufacturers are finding it increasingly difficult to sell, and are doing everything they can to win customers.
Car dealerships across Beijing are cutting prices to attract consumers.
One car dealer said "The price of the deluxe model is down by 20 thousand yuan. Purchasers of the regular model can enjoy 10 thousand yuan off. We're also throwing in GPS navigation programs for free."
In addition to discounts, manufacturers are coming up with other promotional strategies. For example, customers can now take out zero interest rate loans to buy entry and mid-level models. This kind of offer used to be exclusively limited to high-end cars.
Promotional campaigns cover almost every type of car. But the market is reacting in just the opposite way. Dealerships in Beijing say they're actually receiving fewer consumers, and many of them are waiting for an even better deal.
One car buyer said "I heard that the price may go down further. I will wait and see."
Insiders say the general price adjustment in the auto market may have something to do with the jump in production. With confidence boosted by last year's boom, domestic manufacturers are targeting higher sales and producing more cars.
Qi Yumin, President of Brilliance Auto said "I think last year's high growth has contributed to the general price adjustment, as the growth rate was well above its normal level."
Since June this year, around 20 new car models have entered the market, an average of almost one model every three days. The new cars are more competitive, as they boast better features and more reasonable price points.
Guo Yong, Beijing Yayuncun Auto Market said "Many new cars have launched recently. Manufacturers are adjusting prices by putting new vehicles in market."
Automakers looking to China to drive sales amid weak global demand will be keeping an eye on the downward trend. Explosive growth in 2009 saw China overtake the U.S. to become the world's largest auto market. But experts say the momentum effect of auto incentives will eventually cool.
Related stories
Editor:Xiong Qu |Source: CCTV.com