Watch Video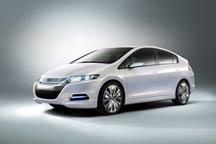 Play Video
The city of Shenzhen kicked off its 16th Motor Show over the weekend. The event attracts more than 70 auto brands showing off around 400 models. But the much-anticipated hybrid car is nowhere to be seen.
July is traditionally the low season for car sales.
However, because a trial subsidy program for new energy autos has been unveiled, people expect this will stimulate the sales of hybrid cars. Surprisingly, hybrid car is not included in the exhibition.
One visitor in Shenzhen Motor Show said "I wish the recharging process for the hybrid car is as convenient as refueling normal cars. What if the car runs out of battery on the road? It's my main concern."
One auto distributor in Shenzhen Motor Show said "The OEM production level hybrid car is low. It usually takes from one month to one and a half from order to delivery."
Editor:Xiong Qu |Source: CCTV.com