Watch Video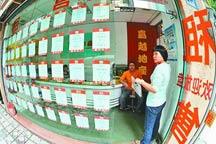 Play Video
Real estate transaction volumes have fallen in many Chinese cities, since the government took tougher measures to lower housing prices. But as potential home buyers wait to see whether prices will drop further, others are having a tough time finding affordable rental accommodation.
In Guangzhou, capital of Guangdong Province, the number of houses available for lease are shrinking. The shortage is partly due to the government's new curbing policies, as well as the rebuilding of some dilapidated communities. Adding to potential tenants' woes, the cost of rent is on the rise.
One renter said "It´s very hard to find an apartment now, as supply is short. The rent is also too high for college graduates like us. It´s a big financial burden. I have to pay one third of my salary on rent."
Some real estate insiders say in addition to external factors, rent is actually being pushed up by property agencies. Some agencies are taking advantage of the market, and encouraging landlords to raise prices. But experts point out the major reason for the soaring cost of rent is the change in supply and demand caused by the new policies.
Chen Guoqiang, Director of Real Estate Institute, Peking University said "As the government has issued new adjustment policies, some people who were about to buy a home have opted to rent one instead. So demand has increased."
Experts are suggesting that the government could also issue curbing policies to regulate the rental market.
Chen Guoqiang said "The supply and demand situation influences movement of rent. Once the tension between supply and demand is eased, the room for further rent increases will be limited."
Although the government´s efforts to cool the real estate market have seen some effect, housing prices are still out of reach for most ordinary Chinese. Those calling for renewed government intervention say regulating rental costs will go some way of alleviating the pressure.
Editor:Xiong Qu |Source: CCTV.com