Watch Video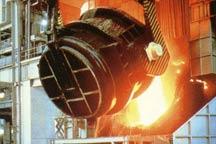 Play Video
China's iron and steel production capacity reached 700 million tons last year, well exceeding demand. Now the Ministry of Industry and Information Technology is encouraging the industry to curb the excessive capacity through mergers.
China's iron and steel industry is well overcapacity.
So the Minister of Industry and Information Technology Li Yizhong, says related departments are promoting mergers and acquisitions within the sector.
Li Yizhong, Minister of Ministry of Industry & I.T. said "No iron and steel expansion projects will be approved until the end of 2011. Related departments are clearing up illegal projects, and will strictly ban any iron and steel project without permission."
Li Yizhong says his ministry is cooperating with the Ministry of Finance, to offer more financial support to help enterprises.
The authorities will give preferential policies to companies with plans to improve technology, through mergers and acquisitions.
Related departments have submitted a merger and acquisition scheme to the State Council. It aims to restructure large enterprises in ten industries, including the iron and steel sector.
Due to growing demand for iron and steel in recent years, there was a need to expand.
But despite the government´s repeated orders to control unreasonable increases in iron and steel capacity, companies continued to invest.
Editor:Xiong Qu |Source: CCTV.com