Watch Video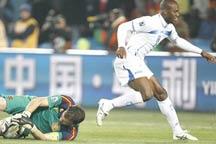 Play Video
As the only Chinese sponsor of the 2010 South Africa World Cup, Yingli Green Energy has cast itself into the global spotlight. Its logo appeared for a total of eight minutes every game, triggering unprecedented interest in the green energy company.
Eight minutes in exchange for global recognition. That's the influence of the World Cup. And Yingli Green Energy must have splashed out a huge amount of money for its 8 minutes of fame.
Wang Yiyu, Chief Strategic Officer of Yingli Green Energy Holding Company said "Part of our deal with FIFA is confidentiality on the final figure. So I'm not going to tell you that."
Although Yingli isn't disclosing what it paid to FIFA, some estimate the number to be around 200 million yuan.
What kind of company can afford such an investment, in exchange for just a few minutes of exposure?
Based in Baoding, Hebei Province, Yingli is dedicated to developing green energy and is a leader in the area of solar energy.
Some say Yingli is taking a huge and expensive risk on World Cup sponsorship. But the results are in, and it seems the investment is paying off.
Wang Yiyu said "According to our incomplete statistics, our popularity has been expanded. If you type "Yingli" into the "Google" search engine, you get at least 4 million results. It has increased more than five fold."
The powerful advertising pull of the World Cup has affected Yingli's share price, soaring from 8.41 U.S. dollars up to 11.6 dollars. Within a month, Yingli might have rallied around 400 million U.S. dollars from the stock market.
And the company believes this is only the beginning of cashing in on its World Cup rewards. It hopes to use its newfound prominence as a platform for promoting solar energy products in the enormous South African market.
Editor:Xiong Qu |Source: CCTV.com