Watch Video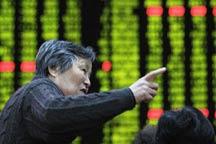 Play Video
China's tumbling A-share market shrank in market value in the first half of the year, in both Shanghai and Shenzhen. As Yin Hang reports, a total of around 6.2 trillion yuan in market capital evaporated.
According to the Shanghai-based Wind Information company, China's A-share market value has fallen by around 5 trillion yuan compared with six months ago.
Excluding the contribution of newly listed shares, around 6.2 trillion yuan of value was pulled out from the market in the first half of the year.
The price-earning ratios in four sectors of the Shanghai and Shenzhen market have plummeted below the one-thousand six-hundred and 64 points maintained in 2008. The sectors include banking, architecture, railway transportation, and farming, forestry, husbandry and the fishery industry.
Led by the banking and property sector, statistics show that the total capital of six sectors including banking, oil, mining, insurance, metal and real estate all decreased dramatically. The banking sector alone shrank 1.3 trillion yuan, around the market value of 51 Banks of Nanjing.
Analysts estimate that as the short term regulatory risks ease gradually, banking shares will again restore its high securities.
Editor:Xiong Qu |Source: CCTV.com