Watch Video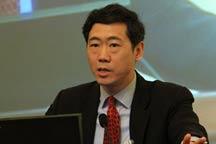 Play Video
China's first half data might not be officially out yet, but already economists are making predictions for the second half. Most expect growth to slow, but to remain high in comparison to the world average.
China's Tsinghua University has released its prediction for China's economy this year. It expects gross domestic product to reach more than 10 percent. It also forecasts the average consumer price index - the major gauge for inflation - to be 2.9 percent, just below the 3 percent target.
Professor Li Daokui says that's almost perfect.
Li Daokui, Professor of Tsinghua University said "Our analysis at the Center of China and World Economy indicates the macro economy is running in a rather healthy form. So overall we are having a reasonably healthy, rather healthy economic situation."
The Goldman Sachs Group also released its forecasts for the Chinese and world economies. It says China's GDP will increase by around 10 percent during the second half of this year. But the growth pace of developed economies, such as the U. S. and Europe will slow.
Helen Qiao, Economist of Goldman Sachs said "In the later second half of this year, we are expecting domestic demand growth in the U.S. as well as Europe will slow down, but not necessarily to collapse in the sense of what we saw in 2008 probably not repeated."
Other institutions have also weighed in on China's economic expectations.
The Chinese Academy of Social Sciences predicts China's GDP will rise by more than 10 percent this year.
Bank of China expects growth to reach nine and half percent... the same as the World Bank's forecast.
Editor:Xiong Qu |Source: CCTV.com