Watch Video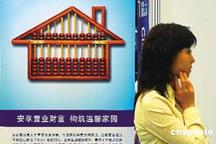 Play Video
Despite officials pledging not to loosen restrictions on third home lending, local banks ARE making some changes. In Shenzhen, those looking to buy their third property can secure loans as long as they can make the minimum 50 percent down payment.
Some Shenzhen banks say mortgages on third homes are available,but the requirements to qualify are strict.
Employee of Industrial and Commercial Bank of China said "The minimum down payment is 50 percent, and the interest rate is 1.1 times of the benchmark rate."
The Bank of Communications in Shenzen says their down payment for a third home is 60 percent. And the interest rate is 15 percent higher than the benchmark. Many first-tier cities, including Beijing and Shanghai, halted mortgage issuance for third homes in mid-April this year. But the adjustment policy is becoming relaxed. Experts say easing the third home mortgage policy won't impact policies on second home loans.
Guo Maojia, Finance Professor of Shenzhen University said "The smooth development of the real estate market mainly depends on self-residence demand. So the demand for a second home mortgage is not that large. The biggest borrowing demand comes from speculative investors. "
Experts also say neither the central government nor local authorities have banned buyers from taking out third home mortgages. The decision-making power is actually held by the banks.
Editor:Xiong Qu |Source: CCTV.com