Watch Video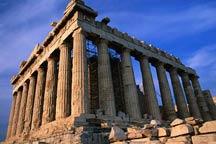 Play Video
Greece easily sold 1.625 billion euros of six-month T-bills on Tuesday, passing its first borrowing test since securing a giant 110 billion euro EU/IMF emergency funding deal in May, but yields stayed high.
Greece managed to get funding from markets at a slightly cheaper cost than the five percent it pays to borrow under the EU/IMF loan package, aimed at pulling the country out of its debt crisis. The auction produced a yield of 4.65 percent.
George Papaconstantinou, Greece's Finance Minister said"We are very pleased with the response. We were over-subscribed three times and I think it is fair to say that it reflects the good news that is coming from Greece in the past few weeks. It reflects that we are pushing ahead with reforms, we passed a major budget a few days ago and also perhaps yesterday's budget figures for the first six months of 2010 where the deficit is down by close to 50 percent - 46 percent."
Platon Monokroussos, Analyst of EFG Eurobank said "No nasty surprises there, I think that the auction was well absorbed, the total bids exceeded the offer amount by more than 3.6 times, and the yield was broadly in line with expectations. I think this auction will contribute to the broad-based stabilization and sentiment we have been seeing over the last few weeks, and this is in line with the positive message if you like we had out of the data for the budget in the first half of the year."
Editor:Xiong Qu |Source: CCTV.com