Watch Video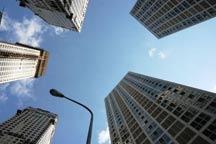 Play Video
The Chinese government says it will continue implementing policies aimed at reining in housing prices. With the curbing measures in effect now for almost 100 days, analysts say property prices have entered a crucial phase.
The government has been very quick in quashing recent rumors about a potential loosening of the curbing policies. But the measures haven't had the dramatic effect on housing prices that was expected.
Ma Guangyuan, economist said "After the policies were implemented, the transaction volume fell. But housing prices haven't yet been reduced as much as expected. In the long run, if the government insists on sticking to the policy, we may see greater results."
Analysts say regardless of whether the government chooses to tighten or loosen the curbing policies, the decision will have great impact on the Chinese economy. But there's still uncertainty about both housing prices and the government's policy.
Ma Guangyuan said "I think the property market has to give a much clearer sign, to let people know the policies are going to be firmly imposed. Then we'll have a much more stable market, giving us long-run economic benefits."
Analysts say the property market has three major issues. Firstly, housing policies will remain unchanged, without any loosening prospects. Secondly, investors need to take a strong stance, rather than the current wait-and-see attitude. And thirdly, local governments and banks need to follow the policies. The last part may be difficult, as the housing policies are likely to affect their short-term profits.
Editor:Xiong Qu |Source: CCTV.com