Watch Video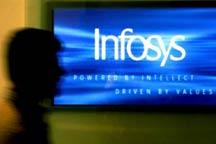 Play Video
India's top IT services exporter Infosys Technologies reported a surprise drop in second quarter profits.
Its net profit fell 2.4 percent compared to a year ago. Revenue from Europe, which represents about 20 percent of Infosys' business, declined 12 percent. Currency fluctuations also hurt profits.
Company executives said Eurozone troubles brought a fresh wave of uncertainty, and lowered earnings expectations for India's outsourcing sector.
Kris Gopalakrishnan, CEO of Infosys Technologies said There is optimism about our performance and where we are and what we see ahead of us. The way I look at it is now, there are some distant clouds in the horizon and we don't know, whether they are simple rain clouds, then everybody will be happy, or, you know, there is a cyclonic storm ahead of us. You know, this is based on what is happening around the world, in Europe and other parts of the world."
S. D. Shibulal, CEO of Infosys Technologies said "Europe, as the percentage has come down, as you know, Europe entered the recession behind North America. Europe still has challenges in various areas, and that is being reflected in these results."
Related stories
Editor:Xiong Qu |Source: CCTV.com