Watch Video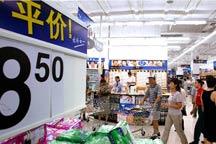 Play Video
Let's take a closer look at consumer prices - key economic data that's perhaps most relevant to people's lives. Our reporter Guan Xin went to the supermarket, to find out how consumers feel about current prices.
One Kiwi fruit will set you back almost 6 yuan while grapefruit is priced at 11.5 yuan for 500 grams, and half a kilo of peaches will cost almost 11 yuan.
Consumer price levels affects everyone's daily life. The government set the target to keep inflation rate at around 3 percent this year. As we've seen in the supermarket, prices are getting higher.
Chinese consumers find that their bill for ordinary necessities is rising. Official figures show a 3.1 percent year on year increase in the consumer's shopping basket in May and the figure is expected to hit 3.3 percent in June.
"Have you found any changes in prices?"
"Sure, such as the coffee, it's getting more expensive than before."
"How much does it cost?"
"It used to be 3 yuan, but now 3.20."
Mr. Wang told us that in order to save on everyday bills and fend off inflationary pressure, he usually searches the supermarket's catalogue for discounted products. Although the overall price level is higher, there are still many goods that offer a more favorable price. This time, he found Coca Cola's bulk pack on special.
Wang Peng said "Actually you can get larger pack of cocacola, it's always cheaper. Such as the 6-bottle pack."
But there is some good news for consumers - most analysts expect inflationary pressure to ease in the second half of the year. And they believe the government can achieve their target to keep inflation at 3 percent.
Editor:Xiong Qu |Source: CCTV.com