Watch Video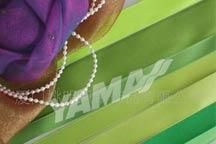 Play Video
The U.S. Department of Commerce has made its final ruling on an anti-dumping case involving China's woven ribbon industry. Chinese companies have been slapped with anti-dumping duties up to almost 250 percent. But the only responding party, Xiamen's Yama Ribbons and Bows, received no penalties.
According to the ruling, YAMA's dumping margin is zero, and the subsidy margin is 1.56 percent. This means the company can continue to export its products to the U.S. But Chinese companies that didn't respond the case will be levied punitive tariffs between 117 to 247 percent.
Yao Ming, Chairman of Yama Ribbons & Bows Co. Ltd. said "We finally won this lawsuit. It's good news for our company. The case has been going on for a year, so I'm pretty happy with this result."
The U.S. launched anti-dumping and anti-subsidy investigations towards China's woven ribbon industry in last July. It marks the first trade relief measure in the U.S. textile industry in the post-quota era. The U.S. chose its first and second largest Chinese exporter, as well as two other producers, as responding parties. But the other Chinese companies failed to respond to the allegations. Yama's successful outcome may be food for thought for other companies, although they spent more than 3 million yuan defending the case.
Related stories
Editor:Xiong Qu |Source: CCTV.com