Watch Video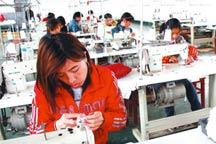 Play Video
China has developed a new index to monitor small and medium sized businesses. Its purpose is to give SMEs a greater voice in future policy decisions. The first index reading, reflected data released by the National Bureau of Statistics.
According to the Small and Medium Enterprises Development Index, the output of China's SMEs decreased in the second quarter.
That's because many companies are suffering from fund shortages and increasing labor costs.
But the IT and social services sectors are still doing well.
The index will be published quarterly. It will cover nine sectors, including industry, real estate, finance, retail sales, and IT.
China's large number of SMEs cushioned the blow, of the financial crisis. It's hoped the index will provide a reference for drawing up future policies.
Li Zibin, Chairman of China Association of SMEs said "Based on the index, you can make judgments on the macro-economic situation, and development of each industry. When we find a turning point, we can make adjustments to the policies. So the index is essential for understanding SMEs and business confidence."
Entrepreneurs are pinning their hopes on the index, to give them a voice.
Zhao Min, Chairman of Adfaith Management Consulting said "From a certain level, the index reflects the SME situation and their standpoints. So to me, the index marks a milestone in the macro-economic field.
According to the China Association of SMEs, small and medium sized enterprises provide over 80 percent of jobs, 60 percent of GDP, and 50 percent of tax revenue.
Editor:Xiong Qu |Source: CCTV.com