Watch Video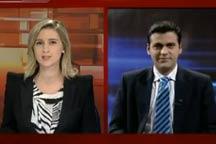 Play Video
Now let's cross over to New Delhi for the Indian perspective on China's newly releases half year data. Pranshu Sikka joins us now.
Q1. Pranshu, China's economy slowed in the second quarter. India on the other hand, is placing heavy emphasis on achieving double digit growth. How do the 2 economies compare at this point?
Q2. Fuel prices went up recently. But diesel is yet to be deregulated in India. Is this because of political pressure?
Editor:Xiong Qu |Source: CCTV.com