Watch Video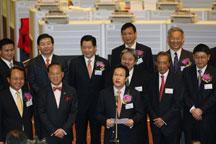 Play Video
The Agricultural Bank of China has gone international, by debuting on the Hong Kong stock market where it was available to foreign investors.
It notched up modest gains, amid concerns over the valuation, and a glut of bank share sales.
The Hong Kong IPO marked the international portion of AgBank's dual-listing.
Unlike the A-share listing launched Thursday on the Shanghai bourse, Agbank's H-shares are open to foreign investors.
The bank sold 25.4 billion shares in Hong Kong and 22.2 billion shares in Shanghai, raising 19.2 billion U.S. dollars.
The total could rise to 22.1 billion US dollars if underwriters exercise an over-allotment option by August 5th to purchase additional shares.
If that happens, the listing would eclipse the global IPO record of 21.9 billion US dollars set by another Chinese state-owned lender... the Industrial and Commercial Bank of China.
AgBank is the last of China's "Big Four" state-owned lenders to list its shares.
Xiang Junbo, Chairman of Agricultural Bank of China, said, "When they listed, that was four to five years ahead of us. We just listed today. If we are able to reach 150 percent coverage ratio by the end of the year, I will be very happy."
The H-share started trading at 3.25 Hong Kong dollars, 1.6 percent above its offering price of 3.2.
The offering price represents 1.65 times AgBank's forward book value, just above Bank of China, but below that of ICBC and China Construction Bank.
Hong Kong economists are pinning their hopes on the newly listed shares.
Francis Lun, General Manager, Fulbright Securities Ltd., said, "AgBank has the lowest loan to deposit ratio of the four major banks, so it has room to grow. I think it will do better than expected."
With almost 24-thousand branches and some 400-thousand employees, AgBank has almost double the staff and twice as many outlets as Bank of China, but a similar asset base.
Editor:Zhang Pengfei |Source: CNTV.CN