Watch Video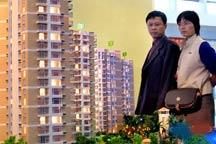 Play Video
From April 15th to July 15th, Beijing recorded sales of only 37 thousand under-construction apartments. That's down by more than 50 percent compared to the same period last year, but the figure is comparatively stable month-on-month.
June has witnessed the sharpest drop yet in Beijing's under-construction apartment market. Sales of properties being built shrank from more than 18 thousand units last year to only 6 thousand units. More than 30 percent of buyers chose houses with average prices between 10 to 15 thousand yuan per square meter, and houses under 90 square meters are the best sellers.
The government's new policy aimed at curbing the real estate sector was launched in mid-April. Daily transaction volumes in late April were down by more than 70 percent compared to that of early April. That volume has since climbed slightly in the following two months.
Going by the June figures, the current stockpile of new houses in Beijing will take 11 months to be sold.
Industry insiders say land supply has recently changed.
Cai Hongyan, Official of China Real Estate Association said "Companies may pay more attention to commercial land or land for subsidy housing."
But even though sales volumes have plunged in recent months, the daily transaction remains stable - suggesting that demand for housing is still high.
Editor:Xiong Qu |Source: CNTV.CN