Watch Video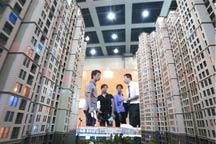 Play Video
Three months after the new curbing policies were launched in the real estate market, Shanghai kicked off its 27th Housing Expo on the weekend. The usually-bustling activity of the expo has now dropped to a mere whisper.
The expo center is empty, and the usual hustle and bustle is absent. Organizers say less than 80 developers have taken part in this year's expo, down by nearly 60 percent compared to last year.
One sales person said "Only 20 to 30 clients intend to buy into our projects, which is only half compared with previous years."
But even though buyer interest is waning, few developers are willing to lower their prices.
One sales person said "Prices remain the same, nothing has changed...What we offer is the real price, so there's no discount."
Houses in downtown Shanghai are still selling at an average of 36 thousand yuan per square meter, while prices in suburban areas are more than 16 thousand yuan. Many potential buyers say they're disappointed with the prices.
One Shanghai citizen said "I'm quite disappointed, it's not my ideal price."
One Shanghai citizen said "My child will get married soon, so we're visiting every housing expo - but there's no hope of buying at all."
3.6 million square meters of housing was sold in Shanghai in the first half of this year, down by more than 60 percent year on year. But prices haven't fallen significantly. Some sales consultants say Shanghai hasn't implemented its own policy towards the real estate market, so developers are preferring to wait, rather than lower their prices.
Editor:Xiong Qu |Source: CNTV.CN