Watch Video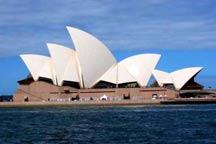 Play Video
Minutes from Australia's central bank released on Tuesday show policy makers are optimistic about the country's economy this year, but remain cautious about 2011. Let's take a look.
Australia's central bank said it was optimistic about the local economy, adding the nation had been spared the worst of the crisis.
But the Reserve Bank said the outlook for 2011 was less uncertain.
Morgan Stanley's Pieter Van Der Schaft also warns of the potential impact from a A$300 billion bank funding shortfall for Australia's banks.
Pieter Van Der Schaft, Morgan Stanley's Head of Interest Rate Swaps said "The absorption capacity of domestic issuance, issuance in domestic market is quite limited, somewhere between 20 to 40 billion Australian dollars, so most of the funding will have to be done offshore".
Van Der Schaft says this will translate to higher funding costs, which in turn may impact loan activities.
Pieter Van Der Schaft said "The two effects for the Australian economy are higher lending rates, and potentially a squeeze in the availability of credit"
Morgan Stanley says this will weigh on domestic demand leading to the possibility of an easing in Australian monetary policy over the next 12 to 24 months.
Editor:Xiong Qu |Source: CNTV.CN