Watch Video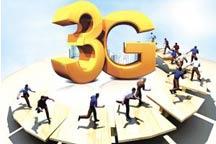 Play Video
China's third-generation mobile phone service subscribers increased 40 percent in the second quarter. But the number failed to meet government expectations.
The number of 3G users released by the Ministry of Industry and Information Technology failed to meet expectations. Zhang Feng, a senior official with the Ministry of Industry and Information Technology explains.
Zheng Feng, Senior Official of MIIT said "China's 3G users have reached 25.2 million until this June. It falls short of the previous expectation affected by many factors, such as users, network coverage and service models. We're expecting a prompt solution to those problems."
China's 3G investment slowed in the first half of the year. Still, around 19.2 billion yuan was invested in 3G network construction.
Direct investment in 3G for the whole year will be around 90 billion yuan... much less than the 160 billion yuan invested last year.
Zheng Feng said "The shrinking scale of the 3G investment is caused by the following reasons: firstly, some firms have not started large scale network construction yet; and secondly, the 3G network construction is now entering its network extension phase. So the investment is comparatively less than in its first year."
The ministry also says China will stick to its target of injecting 400 billion yuan over three years, into 3G development.
Zhang also said the industry would press ahead with the "Triple Play" program to meet consumer demand for diverse telecommunication services. The program allows users to make telephone calls, surf the Internet and watch television through a singe cable or wireless entrance.
On June 30th, the government announced that 12 cities, including Beijing, Shanghai and Nanjing, were approved for the program.
Editor:Xiong Qu |Source: CNTV.CN