Watch Video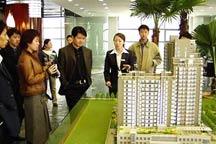 Play Video
It's been 100 days since the government implemented control policies in the real estate market, and the period has seen some changes in China's property sector.
The National Bureau of Statistics says average housing prices for new homes in China's 70 major cities rose 11.4 percent in June. The growth rate was down by 1 percentage point compared to May. It's the first drop in growth rate since April 2009.
Prices in 28 cities including Beijing, Shanghai, Shenzhen and Guangzhou all dropped in the last month, while transaction volumes also plunged significantly.
In March, more than 82 million square meters of commercial houses were sold across the country in March, and that figure dropped to less than 70 million in May.
Liu Hongyu, Director of Inst. of Real Estate Studies, Tsinghua University said "The growth rate has been slowing down, while transaction volumes have dropped. This is the result of the government's control policies."
Although most developers are still taking a wait and see approach, some have taken the lead to launch promotional strategies. As the control policies are being gradually carried out, developers' capital pressure is increasing. Judging from the current situation, the stocked homes will increase significantly in the second half, when a price drop may emerge.
Gu Yunchang, Deputy Director of China Real Estate & Housing Research Association said "The government's policies are very clear. In the second half of this year, supply is increasing while demand is reducing, speculation is being cracked down, while some others are waiting and seeing. So the supply and demand chain has changed. Before, the main reason for the surging prices was the imbalance between supply and demand, so now as the ratio is improved, housing prices will drop."
But experts say the current market is still facing uncertainties. Gu Yunchang predicts prices in major cities may drop by 5 to 10 percent, while that in small and medium sized cities may continue to go up slowly.
Editor:Xiong Qu |Source: CNTV.CN