Watch Video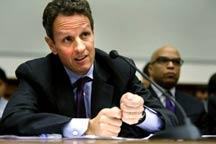 Play Video
No double dip recession. US Treasury Secretary Timothy Geithner expressed cautious confidence on Sunday during an interview on NBC television's "Meet the Press". Let's take a look what he has to say.
U.S. Treasury Secretary Timothy Geithner says that the economy is recovering from a severe recession and he does not expect it to slip back into a downturn.
Timothy Geithner, US Treasury Secretary said "You know, the economy has now been growing for almost a year, a little more than a year. The private sector is creating jobs again. The economy is starting to heal again. You are seeing growth, manufacturing, private investment recover. Those are encouraging signs but we are living now with a lot of challenge because of the scars of this crisis ran so deep and I think most Americans understand it is going to take some time to heal this."
In an interview on NBC television's "Meet the Press", he said he does not foresee a "double dip" recession.
Timothy Geithner said "I think the most likely thing is you see an economy that gradually strengthens over the next year or two, you see job growth start to come back again, again investments expanding, manufacturing is getting a little stronger, exports better, those are very encouraging signs. But, we've got a long way to go still."
While growth has returned, the job market is still weak. Last week the White House said the unemployment rate is expected to average 9.7 percent this year and 9 percent in 2011.
Editor:Xiong Qu |Source: CNTV.CN