Watch Video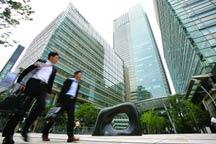 Play Video
Average land prices in Japan fell eight percent in the year to January, the biggest drop in more than a decade. Experts say it's a sign the country's real estate market is still reeling from the global financial crisis.
According to a survey by the National Tax Agency, nationwide land prices averaged 126 thousand yen per square meter. It was the second straight year of decline... down 8 percent after a 5.5 percent drop the year before.
It marked the biggest decline since an 8.3 percent fall in 1996.
Tokyo suffered the biggest drop of 11.3 percent, which was its fastest rate of decline in 14 years.
The cost of a land plot in Tokyo's upscale Ginza shopping district plunged 25.6 percent, its biggest slide in 16 years. Though it is still the most expensive place in Japan at 23.2 million yen per square meter.
Manager of Mitsubishi Home, Japan said "Data show that the land prices in Japan jumped slightly. The land prices will maintain at the same level next year. But the price in Tokyo might soar."
Japanese land prices dropped for years following the collapse of the real estate bubble in the early 1990s, leaving huge piles of bad loans in the banking sector and crippling the economy for a decade.
They finally began picking up in the mid-2000s, helped in part as foreign investors poured money into urban developments. But the upturn was short-lived as the global financial crisis shook the market in 2008.
Experts boil down the prices drop to three causes: persisting deflation, uncertain economic outlooks and the outflow of hot money.
Professor Kawaguchi Yuichiko, Waseda University said "Japan now has robust capital on commercial buildings. So the reason for the price drop now is completely different with the real estate bubble that occurred years ago. Banks in Japan now are not suffering any losses."
Experts also attribute the land price slump to Japan's political status quo. The tumbling land prices may largely be caused by less confidence in the country's political stability.
Although Japan's government is estimating its GDP to grow this year. Experts are saying this won't put a halt to Japan's plunging land prices, which might not stop sliding until 2011.
Editor:Xiong Qu |Source: CNTV.CN