Watch Video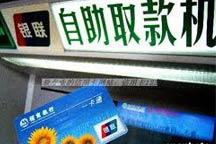 Play Video
Commercial banks in China are raising fees for non-members, who make withdrawals at their ATMs. China's big four banks have already hiked service charges. But the latest round is even more confusing, the charges vary from bank to bank and region to region.
The service charges are different from bank to bank in China's Guangxi Zuang Autonomous Region. Even among the big four banks, some charge 2 yuan while others take 4.
Customers say the 4 yuan charge is too high.
Mr. Liu, from Guangxi said "I find it a little absurd. Too expensive."
Mr. Zhu, from Guangxi said "Too expensive. I can accept 2 yuan. 4 yuan is too much."
Banks in Guangxi's neighbor Guangdong province have their own take on the fee hikes.
But, banks in Shanghai are maintaining the 2 yuan charge.
Some are even capitalising on the confusion instead offering FREE service to lure more customers.
Employee of Bank of Communication said "We used to charge 6 yuan if a customer withdrew 1000. But now we offer the service for free."
Analysts warn that banks need to be cautious when raising fees.
They say it could encourages customers to switch to another bank, that charges lower fees or none at all.
Editor:Xiong Qu |Source: CNTV.CN