Watch Video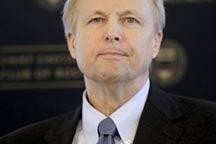 Play Video
Dudley started in the oil industry with Ameco in 1979. He joined BP through its takeover of Ameco, after which he was made head of renewable and solar energy. He was better known for his previous role as head of BP's Russian join venture TNK-BP.
Dudley was boss from TKN-BP's formation in 2003 until 2008, and under him the venture increased oil output by 33 percent. Supporters see this as evidence of Dudley's management capability.
Before the spill, Dudley was managing director with responsibility for oversight of the Americas and Asia. Hayward has described Dudley as "the management team's Foreign Secretary".
Background:
BP's chief executive Tony Hayward is set to step down as head of the British-based oil giant, following criticism of his handling of the oil spill in the Gulf of Mexico. BP is expected to announce his departure later today. Full story >>
Related: Investors cheer for BP CEO's departure
BP CEO to get 600,000 pounds a year pension
Response from US:
White House: BP can't leave Gulf until meeting its responsibilities
Amidst possible changes in BP's management, White House spokesman Robert Gibbs says the oil giant cannot leave the Gulf of Mexico until it's met its responsibilities there, regardless of who is chief executive. Full story >>
Insight:
Expert: Dudley's background to soften US led attacks on BP
Bob Dudley, who was raised in Mississippi, will be the first non-British chief executive of BP. Financial services experts say his background could soften U.S. led attacks on the company. Full story >>
Editor:Xiong Qu |Source: CNTV.CN