Watch Video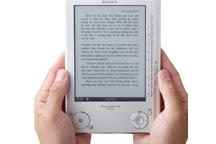 Play Video
Digital books are for the first time, proving more popular than the old fashioned paper-back in China. A government report says total publication output was worth more than one trillion yuan last year, and digital publications outstripped book printing.
According to the report unveiled by the General Administration of Press and Publication, the total output of China's digital publication reached around 80 billion yuan in 2009. With its annual growth rate over 55 percent on average, the sector has surpassed the traditional publication industry.
Another new trend revealed by the report shows that China's mobile phone publication trade volume had outstripped online gaming, accounting for around 24 percent of the total income of the publication industry.
Insiders say the mobile industry is seeking new opportunities for broader cooperation.
Gui Xuan, Chief Manager of Telecommunication Operator said "Under the new industrial circumstances, everybody hopes to provide their copyrighted contents via networks provided by operators. Meanwhile, through services provided to them, the charging and payment process could be streamlined."
Experts say digital publication is an irreversible trend that will gradually take a dominant role in the market.
The government has stepped up its efforts in supporting the industry by pushing forwards its contents, output and transmission development.
Editor:Xiong Qu |Source: CNTV.CN