Watch Video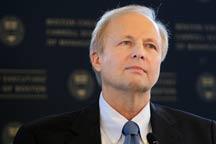 Play Video
BP has announced that Tony Hayward will step down as the company's CEO, after wide criticism of his handling of the Gulf of Mexico oil spill. American Bob Dudley is set to take the CEO role in October.
After weeks of speculation, BP says embattled chief executive Tony Hayward will step down as head of the oil giant on October 1st.
His replacement will be Robert Dudley, the American BP executive currently in charge of the oil spill response. Dudley will become the first non-British chief executive of the company.
The shakeup comes after months of criticism over Hayward's handling of the Gulf of Mexico oil spill, the worst in U.S. history.
His handling of the disaster was marked by highly publicized comments, which outraged many.
Tony Hayward, BP CEO said "We're sorry for the massive disruption it has caused to their lives. There's no one who wants this thing more over than I do. You know, I'd like my life back."
Bob Dudley will take the helm of BP on October 1st.
Bob Dudley, New BP CEO said "I've spent the last three months on the Gulf coast and I'm going to focus for the next month-and-a-half on what we're doing in the Gulf coast, our relationships to the Gulf coast and Washington."
BP hopes Dudley will improve public opinion of the company, especially in the United States.
Market analyst Greg Smith says the oil major has a lot of work to do, to repair its image.
Greg Smith, Managing Director of Fat Prophets said "Perhaps the appointment of Robert Dudley is going to answer those calls for an American. But certainly time to move on, and the change in management is just the first step on a long road to recovery for BP."
As the new CEO appeared at BP headquarters, environmental campaigners Greenpeace protested outside BP petrol stations in London. The group says a change of leadership isn't enough, and that BP needs to reconsider the direction the company is taking.
Editor:Xiong Qu |Source: CNTV.CN