Watch Video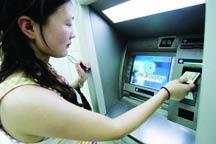 Play Video
Bank ATM fees are on the rise across China. But recent reports suggested banks in Beijing and Shanghai, would leave charges on hold. Now a CCTV investigation has revealed, one Beijing bank branch is lifting fees.
CCTV called a number of Beijing bank branches, with a simple question. Are they doubling inter-bank ATM fees from 2 yuan to 4?
Staff of China Merchant Bank said "We haven't received any notice and the fee remains two yuan."
Staff of Bank of Communications said "It hasn't been raised. We haven't got notice."
Staff of Agricultural Bank of China said "ATM fees on inter-bank, same-city withdrawals have been raised to 4 yuan per order."
So, only AgBank confirmed it would double its fees. They apply to non-members withdrawing from AgBank ATM's, and members withdrawing in different cities than their main branch.
The ATM charge is set and collected by the bank that issues the card.
The money is then distributed three ways to the card-issuing bank, the bank that owns the ATM machine, and China UnionPay.
Banks say, it's fair.
Cui Sufang, Expert of Huaxia Bank said "Enormous cash withdrawals require more work to transport and count cash. And the ATM maintenance is also a costly job. A two yuan charge can hardly support a bank's operation."
Currently a card-issuing bank has to pay 3.6 yuan to the bank that owns the ATM and China UnionPay. The 2 yuan charge falls well short.
Editor:Xiong Qu |Source: CNTV.CN