Watch Video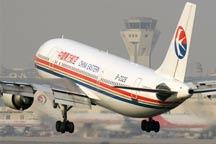 Play Video
China Eastern Airlines, one of the country's three major carriers, has set up a joint venture in Kunming with the Yunnan Provincial government. It's viewed as part of its efforts to explore the southwestern market.
The Shanghai-based China Eastern will hold a 65 percent stake in the new company, which has a total of 3.66 billion yuan in registered capital.
"Golden Peacock", a lucky animal for the southwestern province, will be the symbol of the new company.
Liu Shaoyong, General Manager of China Eastern Airlines said "The growth of the Yunnan company will be maintained at a faster speed than its headquarters. During the next couple of years, we've also planned to introduce some long-distance jets to meet the demand of flying long distance to neighboring countries."
Yunan Province is known for its abundance of scenic spots and tourism resources. But 94 percent of Yunnan is mountainous area. So the cost of building railroads and highways will be very high.
That's why the province owns 12 civil airports, linking the whole country via more than 200 airlines.
But the province has no domestic airline companies. The two parties believe that as a province lacking solid infrastructure, Yunnan will benefit from a more balanced partnership with China Eastern.
Qi Guangrong, Governor of Yunnan Province said "It will be conducive to making use of Yunnan's regional advantages of exploring the western and southeastern Asia market. The aviation industry will lead China heading southwest to a wider market."
China Eastern entered the Yunnan market after taking over Yunnan Airlines from the provincial government in a nationwide restructuring of the aviation industry in 2005. But falling revenues and salary cuts in subsequent years have created tensions with staff.
Both the local government and China Eastern Airlines are pinning their hopes on the newly established joint venture.
Editor:Xiong Qu |Source: CNTV.CN